August 21, 2020


Need to Order? Best ways to currently place a local order with KL Jack...

Our showrooms are still currently closed to the public, but placing orders at each branch is still as simple as a phone call or placing your order online. Find your local branch and either call, email or place your order online* and select your local branch to pick up the completed order at. Currently orders are placed outside at designated pick up areas that are different at each location. Please call ahead with any questions or concerns.

Team KL Jack & Co.

*No minimum purchase amount for online orders.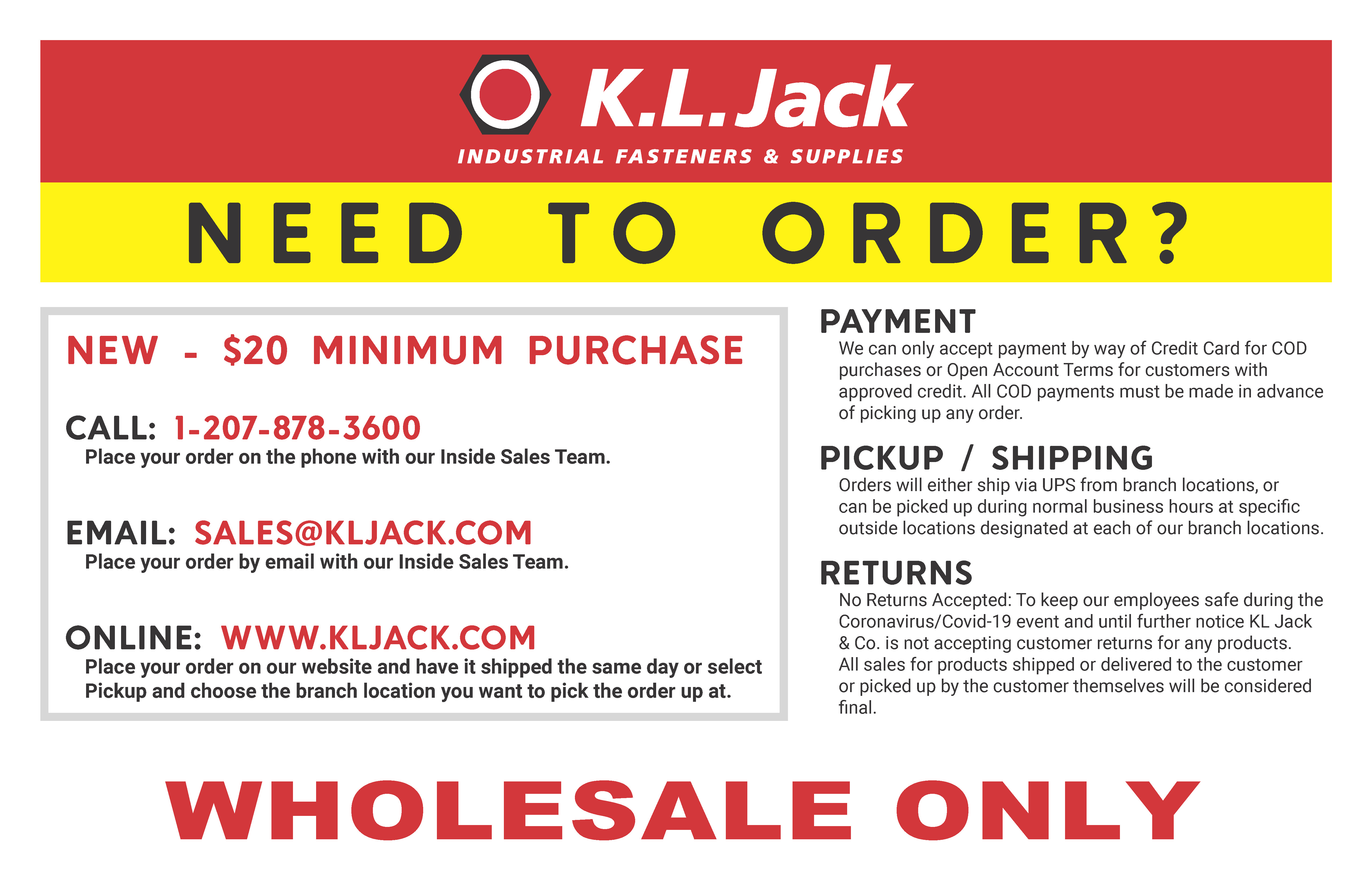 April 15, 2020


Video Message from KL Jack & Co...

Watch a message from our Sales Manager about the Covid-19 crisis and how appreciative KL Jack is for all of the essential workers staying strong during this trying time in our history.

Team KL Jack & Co.
April 8, 2020


No Returns Accepted...

No Returns Accepted: To keep our employees safe during the Coronavirus/Covid-19 event and until further notice KL Jack & Co. is not accepting customer returns for any products. All sales for products shipped or delivered to the customer or picked up by the customer themselves will be considered final. Thank you for your understanding.

Any questions or concerns please call us at 1-800-639-8805.


Team KL Jack & Co.
April 7, 2020


NEW BRANCH HOURS...
All 5 of Our Branch Locations Will Close at 4pm.

Dear Valued Customers,

Effective Tuesday, April 7th all KL Jack branch locations will temporarily begin closing @ 4:00 p.m. This policy is a direct result of Covid-19 and will be in effect until further notice.


As a reminder, our showrooms are still closed to the public. During this time our branch locations shall remain open for our customers to place orders, via telephone, email or by shopping online at kljack.com. We can only accept payment by way of Credit Card for COD purchases or Open Account Terms for customers with approved credit. All COD payments must be made in advance of picking up any order. Orders will either ship via UPS from branch locations or can be picked up during normal business hours at specific outside locations designated at each of our branch locations.

Thank you for your understanding and patience during this unprecedented time. We look forward to welcoming you back into our stores as soon as we are able to safely re-open our doors to the public.

Team KL Jack & Co.

Ways to Order...
Contact your local branch
Shop Online - KLJack.com
April 2, 2020


WE ARE OPEN...
All 5 of Our Branch Locations Are Open For Business!

Dear Valued Customers,

In response to the coronavirus (COVID-19), we have temporarily closed our 5 wholesale showrooms effective, March 17th until further notice. This simply means that we can't have the general public in our showrooms at this time, but the necessary staff is available to assist you with with your needs. We believe this is a necessary step to ensure the safety and well-being of our customers and employees. K.L.Jack is considered an essential business under the category "Hardware and Supplies Stores".

During this time our branch locations shall remain open for our customers to place orders, via telephone, email or by shopping online at kljack.com. We can only accept payment by way of Credit Card for COD purchases or Open Account Terms for customers with approved credit. All COD payments must be made in advance of picking up any order. Orders will either ship via UPS from branch locations or can be picked up during our advertised business hours at outside pickup areas designated at each of our branch locations.

Thank you for your understanding and patience during this unprecedented time. We look forward to welcoming you back into our stores as soon as we are able to safely re-open our doors to the public.

Team KL Jack & Co.

Ways to Order...
Contact your local branch
Shop Online - KLJack.com
March 27, 2020


UPS temporarily Suspends ALL Service Guarantees for Package Freight and Truck Shipments"UPS® is committed to operating globally, except where constrained by government restrictions. The Novel Coronavirus pandemic has created unprecedented complexities, which have required us to constantly reassess our operations. Our highest priority is to help ensure the health and safety of our employees, customers, and suppliers......" READ MORE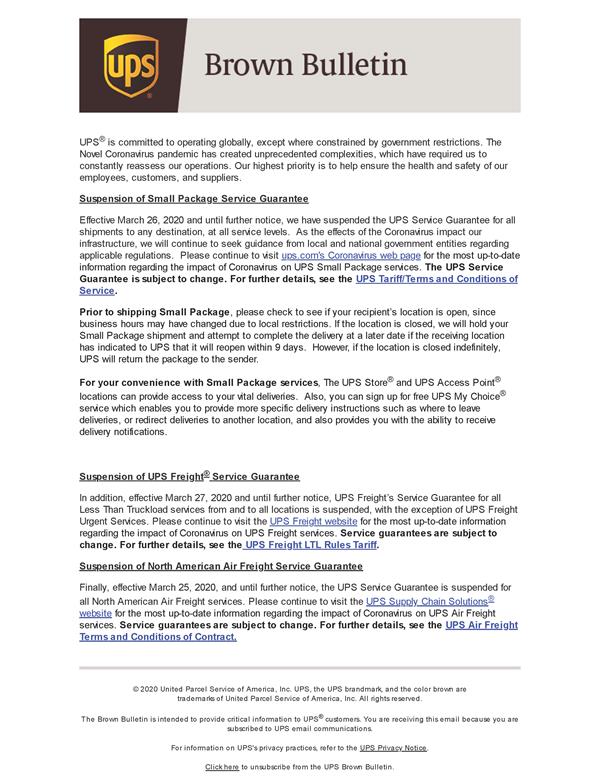 March 17, 2020


No Showroom Access

In response to the latest developments surrounding the coronavirus (COVID-19), we are temporarily closing our 5 wholesale showrooms effective, March 17th until further notice. We believe this is a necessary step to ensure the safety and well-being of our customers and employees.

During this time we shall remain open for our customers to place orders, via telephone, email or by shopping online at kljack.com. We can only accept payment by way of Credit Card for COD purchases or Open Account Terms for customers with approved credit. All COD payments must be made in advance of picking up any order. Orders will either ship via UPS from branch locations, or can be picked up during normal business hours at specific outside locations designated at each of our branch locations.

Thank you for your understanding and patience during this unprecedented time. We look forward to welcoming you back to our stores as soon as we are able to safely re-open our doors to the public.

K.L.Jack & Co.

Ways to Order
Contact your local branch
Shop Online - KLJack.com