Re-Registration for Existing Customers
Hey, welcome to our new website. If you're reading this, you may be interested in learning how to sign in, with the account you had set up in our old site. This can be useful if you need to look up past orders, pay invoices, things like that.

It's pretty simple, but I've set up this link to open up in a new tab or window in case you need to refer back to these instructions.
On the side of the page titled "New Customers - Create an Account" fill out
Your Name (First & Last)
Email Address (with confirmation)
Make up a password (with confirmation)
Now, if you don't currently have an account at one of our branch locations, you can go ahead and click "Create an Account". If you already have an account, you're going to want to locate you Customer ID #. It can be found at the top left of any K.L.Jack invoice.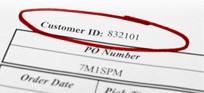 Once you have located your Customer ID number, click the checkbox that says :" I already have a business account" and the box should expand to an area where you can enter your Customer ID. Once that is entered, click Create an Account, and all of your information including Ship To's, will be imported into the new KLJack.com.